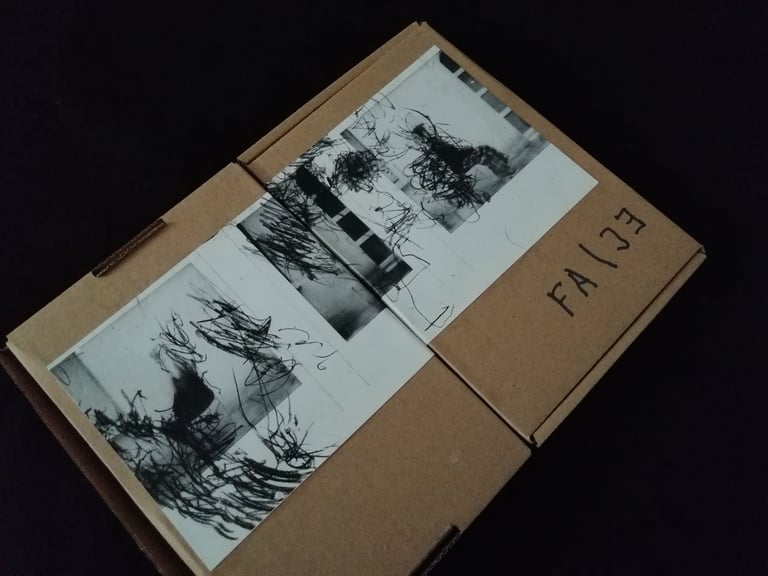 FA\CE Marcia Bassett and Ursula Scherrer - Box edition
FA\CE
Marcia Bassett and Ursula Scherrer
.
.
Box editions of 23 available with diverse printed ephemera, publication 12,3x17cm - 24 pages, sound file, original performance drawing in size 12,5x18cm and unique polaroid.
Box size 13, 5x20x3cm
.
.
.
Marcia Bassett and Ursula Scherrer collaborate using sound, performance, manipulated visuals and text. Their immersive installations transform space and time examining the conceptual and visceral. A play between the intersection of our sense of time and environment. Their first creation was a durational performance "inter_woven" at the Interference Festival 2018 in the Medina of Tunis. In 2019 they joined forces again with a performance "time_untime" at Roulette, Brooklyn and a multimedia extravaganza hosted by OptoSonic Tea at the Parrish Art Museum, NY; most recently, they collaborated at the KRAAK Festival, Antwerp, BE.
.
.
.
NYC - based artist, Marcia Bassett works in areas of sound, improvisation, live composition and visual creations. Bassett's work is equal parts trance and critique. Her sound pieces thread the needle between the conceptual and the sensual, between ritual invocation and cold semiotic gaze. Using handmade electronic instruments, prepared guitar, synthesizer, field recordings and tape explorations, Bassett deftly wields philosophical systems to produce heady, experiential clouds; pushing through drones into provocative soundscapes – the intangible narratives of dreams.
She has toured nationally and internationally with performances at the Experimental Intermedia, Roulette Intermedium, Issue Project Room, The Red Room and numerous festival appearances. She is the founder of Yew Recordings. She was a guest composer at EMS (Stockholm) in 2019. She frequently joins others in collaborative installations and multimedia projects. Recent presentations include "Recollection Through Manipulated Circuits" Vibrant International in collaboration with intermedia artist Katherine Liberovskaya; "Drift Scatter" with Nancy Storrow at AIR Gallery, NYC; "Social Entropy" a 4-channel sound installation at Human Resources, LA; Buchla Music Easel improvisation with Ted Gordon and colorslide stroboscopic light experiments by Jeffrey Perkins; live improvisation with Margarida Garcia and Manuel Mota, and guitar and violin improvisations with Samara Lubelski.
www.marciabassett.org
.
.
.
The poetic quality of Ursula Scherrer's work reminds one of moving paintings. She transforms spaces and landscapes into serene portraits of rhythm, color and light - inner landscapes in the outside world where the images, words and actions have less to do with what we see and hear then with the feeling they leave behind.
After living for over 30 years in New York Scherrer very recently relocated in Basel, Switzerland. Her aesthetic training began with dance, transitioned to choreography and expanded to photography, video, text, mixed media and performance art.
Her installations and performances have been shown internationally, among others at the Ideas City Festival of the New Museum/New York, the Clocktower, Chelsea Art Museum, Pioneer Works, Brooklyn Museum, Roulette, REDCAT/Los Angeles, LACE/Los Angeles, Broad Art Museum at Michigan State University, Museum zu Allerheiligen/Schaffhausen, Künstlerhaus Stuttgart, Sofia Underground Performance Art Festival, SHARED.museum/Bremen, ZKM/Karlsruhe, Seoul Square/Gana Art Gallery/Korea, Organhaus/Chongqing/China, Guangzhou Live/China, artMuse/Gdansk and Bocholt, LAB/San Francisco, Würtemburgischer Kunstverein/Stuttgart, Kunstraum Walcheturm/Zürich, Raum in Bologna, Kunstraum Krems, O'artoteca/Milan, Centre d'Art La Panera/Lleida.
www.ursulascherrer.com
.
.
.
Maison d'hôte is monthly program of 'A la maison' giving stage to artists to explore the various printing techniques and to use this intimate place to create an unpublished sound performance.